High-Resistivity (HR) Silicon
Using the Floating Zone growth, the impurity of intrinsic silicon material is decreased extremely low level.
PHLUXi is dealing with the super grade high-resistivity silicon materials which has a resistivity > 20 k ohm cm. We are holding the raw materials on the shelf, and provide products rapidly with the collaboration of manufacturing firm in Japan.
Unit price is strongly depends on the shape, dimensions, and quantity. Please ask without hesitation.
Resistivity: >20k Ohm cm,

 >50k Ohm cm available on request

as of Jun. 2020
Available dimensions: up to 100 mm-dia, 50 mm-thick
Shape: Any shape is available as requested; 

Window, lens, right-angle prism, ATR prism, hemisphere, hyper-hemisphere et al.

Thin wafer <0.05 mm is also available with a tolerance <0.005 mm.
Standard wafers (2, 3, and 4 inch-dia / 0.28~0.50 mm-thick, polished) are usually in stock.
Instruments using silicon optics, photoconductive antenna module with silicon hemisphere, ATR module with silicon prism, scanning FPI with silicon reflector are also available. Detailed information for these items is here.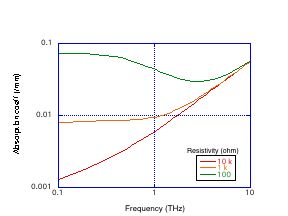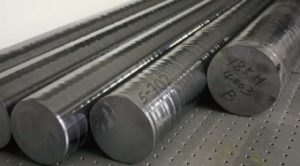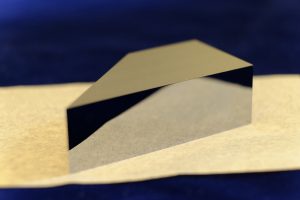 Tsurupica
Most of generally used optical transmission material are of no use in the specific THz-region. "Tsurupica" from PAX Inc., a well-known material for THz-region, is highly transparent not only for wide range of THz -wave but also visible light. Moreover "Tsurupica" shows almost same refractive indices in THz and visible. It realizes the precise alignment of THz light path using He-Ne laser as a guide.
Transparent range: ~12THz (shown as right)
Refractive index: 1.53 @1~12THz, 633 nm
Advantages of Tsurupica optics
A number of non-polar resins are equipped in THz region because of their small attenuation in THz. Smaller absorption of water is also important in humid environment. Some of these have good transparency both for visible and THz waves such as Tsurupica.
SO, WHY TSURUPICA?
Tsurupica only have the smallest modling shrinkage and CTE in these materials. Tsurupica also show good machinability. These characteristics guarantee high precision both for molding optics (for volume product) and machining optics (for custom product).
Comparatively high refractive index realize high NA (large diameter with small focal length) with small abberation which is often required for condenser lens in THz.
Tsurupica is the best transparent resin in THz, especially for the application which requires high precision.
PHLUXi is the authorized distributor of Tsurupica optics to overseas. 
Other materials in THz region
PHLUXi can supply other transparent materials other than above.
Polymer: LDPE, PMP, PTFE…
Semiconductor: Ge, GaAs, ZnSe..
Dielectric: LN, Quartz, Diamond…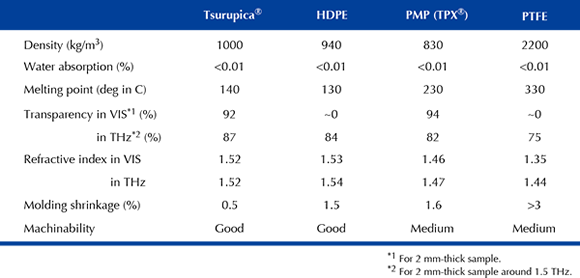 Metal mesh reflector
Mesh-like metal sheet works as the reflector of electromagnetic wave. It can be applied to THz-wave region. PHLUXi provides We offer the calculation results as your required specifications since the reflectivity and spectral property strongly depend on the mesh parameter.
Standard Specifications
Nominal diameter: 1 inch (25mm), 2 inch (50mm)
Effective diameter of aperture: 20mm, 45mm
Applicable frequency: 0.3~20 THz
Reflectivity: 10%~99%
Nickel (Gold/Copper optional)
Ask us the availability of non-standard items.